HR Magazine features Cherry Digital.
"Remote working putting strain on workers' personal relationships."
We ran a survey of 3,800 Brits to discover how couples were coping with working from home together. 78% of respondents say working from home every day has put a strain on their relationship.
Here are some tips on how to deal with the situation in a positive way:
• Use a pair of headphones to zone out and forget your significant other is in the room. This will allow you both to get through your to-do lists and organise your thoughts without having the other person distract you.
• Learn a new hobby together. Now is the perfect time to maximise bonding through activities such as cooking (buy your ingredients online to minimise contact) or learning a new language.
• Spend at least an hour per day on some sort of exercise routine. There are tons of at-home workout videos available online such as yoga, HIIT, dance routines and pilates.
• Ease additional stress by keeping your home neat and tidy by splitting up the household chores.
'Make the most of your time indoors by indulging in activities that you have never had time to do together before. You could learn new skills together such as cooking challenging recipes, blending the perfect cup of coffee using barista rules or figuring out the formula behind solving a Rubik's cube.' says a spokesperson for CherryDigital.co.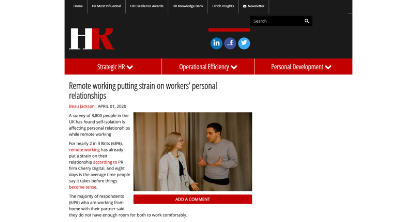 You can read the article in full on HR magazine here.
If you would like to work alongside Cherry Digital, get in touch today.