Our latest campaign for Mattress Clarity on the benefits of sleep divorce featured in an online news video for USA Today. The study found that 1 in 3 Americans would secretly like a sleep divorce!
It was imperative to us that we achieved highly effective backlinks and brand mentions within this campaign, so putting together a press release and infographic that would meet the campaign brief and then catch the eye of strong publications was key. This feature is just one piece of coverage in a list of many that we have successfully landed for our client, helping them boost their search engine optimisation and google rankings.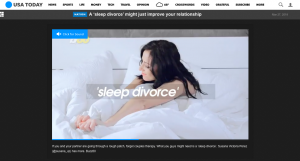 You can watch the video here!