In our most recent digital campaign for mattress review company Sleepopolis, the team investigated how much time, in 2018, had been taken up by micro stresses, and how they can have a cumulative impact on our wellbeing, such as interrupted sleep.
We've all been there; we're about to dash out to work but somehow our keys have gone missing from the fruit bowl we left them in, or we get halfway to the coffee shop when suddenly there's a flash of doubt as to whether we turned our straighteners off before leaving the house. These, and other things like them, are all relatively minor issues, or 'micro-stresses' – they're not big enough to be a proper crisis, but worry about enough of them during the course of the average day and you'll end up feeling really anxious.
After surveying 2,500 Americans, Sleepopolis made some interesting discoveries; the main one being that on average, Americans spend a significant 24 days a year – that's just under 50 hours per month, or over one and a half hours a day – micro-stressing!
This was a highly successful campaign and featured on KXNET.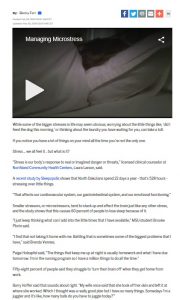 You can view the full article here, and check out the accompanying interactive infographic below which shows!
Created by Sleepopolis  • View larger version